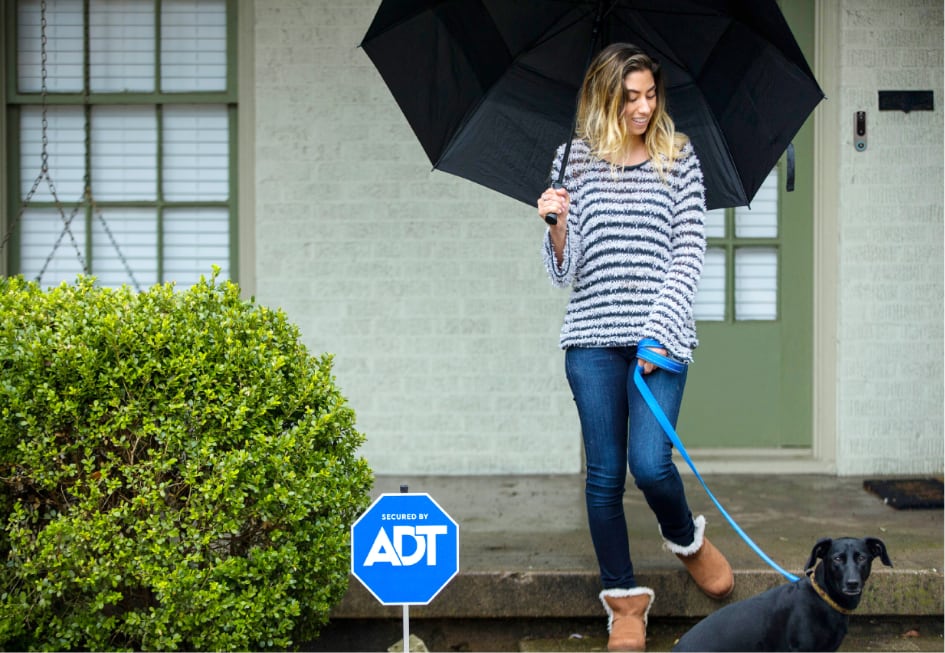 Layering Your Protection Is A Smart Approach
Protecting your property with different security layers is a wise strategy for keeping your home safe. A comprehensive residential security package might consist of window and door sensors, video surveillance, high-def doorbell video, motion-sensor floodlights, and smart door locks. ADP signs and stickers alert possible invaders that these security components are present but they will only be one element of a well-rounded system.
Home security signs might be all you need to stop an uninitiated invader in Auburn, but a single sign in your mulch bed will not scare off a seasoned thief. If they don't see additional home defense components, they may conclude that the sign is just for show and your residence is a suitable target.
Will Home Security Signs Deter Intrusion In Auburn?
There's a general idea that installing signage from a home security company next to your front door is all you need to safeguard your property. Essentially, an intruder will see the small blue octagon and bypass your house. With this in mind, could you just have a home security sign in Auburn and forget about installing a home security system? Frankly, some think that a security system isn't the protector, just get a home security sign in Auburn. It's the home security sign that deters intrusion in Auburn not the home security system.
Even though there is merit in displaying signs and decals from respected security companies such as ADT®, it isn't enough to dissuade every intruder. Instead, you're better off reinforcing them with a range of additional security measures. You will likely agree it's a smarter and safer plan than taking the chance that your home security signs will deter intrusion in Auburn.
Reinforce Your Auburn Home Security Signs With Actual Protection
Although home security signs could deter intrusion on occasion, it's not wise to count on them as your only form of protection. Instead, think about using a combination of the ensuing components:
● Surveillance systems: To be honest, no burglar wants to be caught on video as it can be used against them in a criminal case. Go with an outdoor camera system that oversees main areas of entry such as windows, doors, and garage.
● Window and door sensors: The majority of burglars will enter through obvious entry points like windows and doors, so those should be secured by motion and glass break sensors. When an alarm trips, your system will alert you and your 24-hour monitoring team.
● Motion-sensor floodlights: While it's true that a great deal of robberies occur in the daytime when individuals are working, you also need to defend against burglars who wait until dark. Motion-detection lighting placed strategically near your access points will immediately highlight criminal activity and frighten off potential invaders.
● Smart entry locks and doorbell video: Smart locking systems will notify you when a person tries to engage your entry. A video doorbell adds another layer of security by providing real-time footage. Both work with your mobile security app.
● Smart lighting: Another useful home automation component, smart light bulbs can be customized to a schedule or engaged directly from your smartphone. Smart lights are intended to give the impression you are on-site and effectively turn away thieves.
Get Started On Your Integrated Home Protection Package
Why take the chance that dummy home security signs will deter intrusion in Auburn when you have the opportunity to implement an integrated home security system? Call (334) 219-8276 or fill out the contact form to get started. You may select from a range of solutions at reasonably priced rates or you can personalize your system exactly how you want it.
Cities Served Around Auburn By Secure24 Your Local ADT Authorized Dealer